Terahertz Registration System TRS-16
Features
Real-Time Measurements and Adjustments
"No Bearing" Design Of Fast Delay Line – Virtually Unlimited Lifetime
Increases Signal To Noise Ratio
Does not require Lock-in Amplifier
Complete PC control
Powerful System Control, Data Acquisition and Analysis Software Package
Introduction
This advanced electronics is used in our T-SPEC and T-Fiber series terahertz spectrometers. Now it is also available as stand-alone product named TRS-16. It can be used for home-made opto-electronic or electro-optic pulsed THz spectroscopy systems. The complete set includes electronics module, operational preamplifier and fast scan delay line based on voice coil, with possibility to connect three or more slow delay lines based on stepper motor.
THz registering system TRS-16 with fast optical delay line is suggested to use for the purpose to reduce acquisition time, to obtain possibility to perform measurements and system adjustments in real time (THz signal and it spectrum are shown in real time), to get better signal to noise ratio and to avoid lock-in amplifier at all. The lock-in amplifier is no longer relevant as far as this device is used. TRS-16 electronic also is a supplier of bias for the photoconductive THz emitter and for the operational preamplifier. Also, it replaces the usage of several scientific instruments and it is equipped with powerful system control, data acquisition and analysis software package.
Product technical description
TRS-16 set includes electronics module, operational preamplifier, fast scan delay line and software.
Electronics
The electronic module of TRS-16 system consists of two main parts: delay lines control and signal registration. It has possibility to control fast and three or more slow delay lines (stepper motor controller needed additionally). Fast delay line based on voice coil allows real time data acquisition at 10 scans/s rate with 116 ps scanning window. Use of the optical linear encoder ensures the extremely low jitter, thus registration system can achieve high dynamic range up to 90 dB. The registration part has embedded 16 bit analog to digital converter, operational preamplifier and the THz emitter bias modulator. TRS-16 system also provides bias for the photoconductive THz emitter in range from 20 to 85 V DC and for the operational preamplifier ±12 V DC.
Operational preamplifier is designed to amplify weak detector signals up to measurable level. His conversion coefficient is not less than 106. Preamplifier head is equipped with SMA connector that is matched with Teravil THz detector holder connector.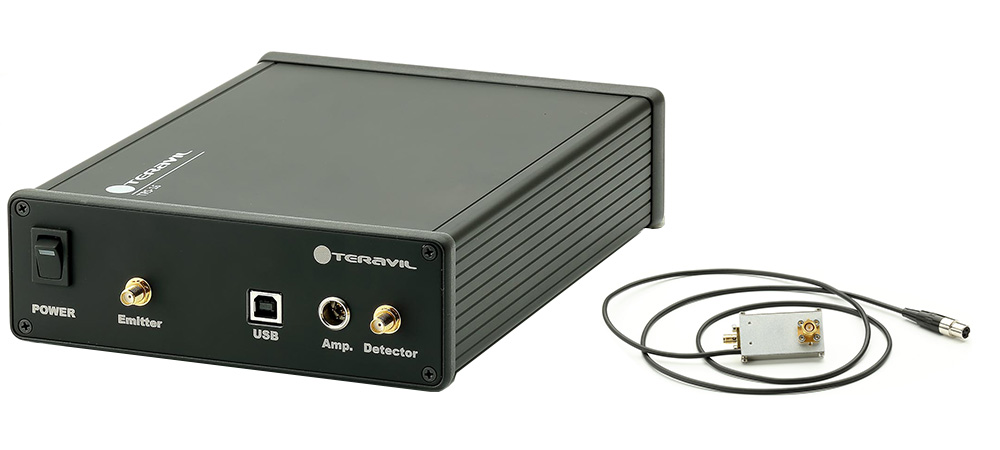 Specifications
Analog to digital converter:
16 bit
Operational preamlifier conversion coeficient:
not less than 106
Dimensions (L×W×H)
230 × 170 × 55 mm
Mechanics
The fast scan delay line is designed without bearings and uses a magnetically coupled drive which makes it extremely reliable and significantly extends the lifetime. A special mechanical design makes movement of retroreflector straight along one axis, which results perfect beam pointing of the beam passing through the delay line. The maximum line scanning rate is matched with its resonance frequency. This feature substantially reduces energy consumption, vibrations and heat generation.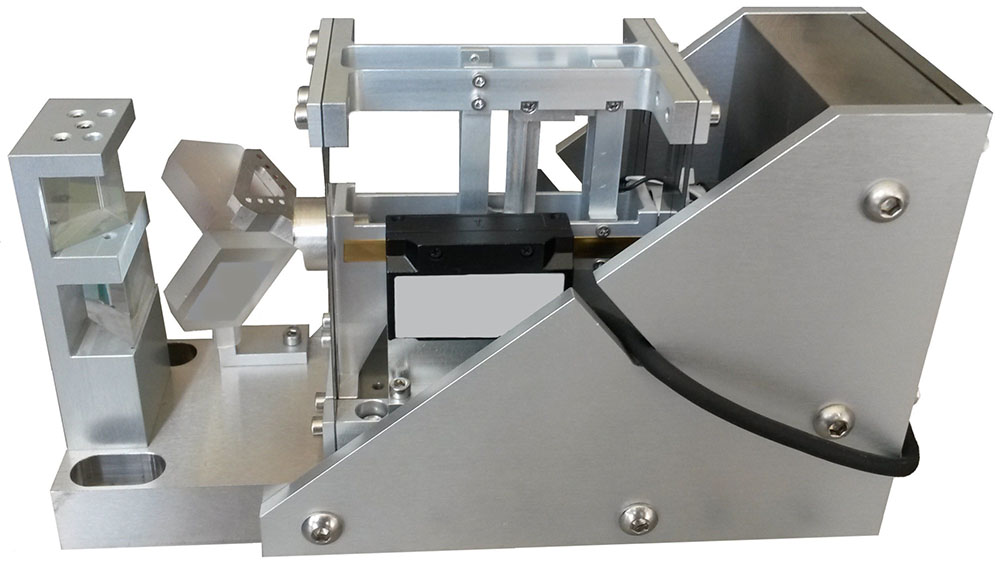 Specifications
Maximum scan window
116 ps
Speed (at max scan window)
10 Hz
Dimensions (L×W×H)
214 × 42 × 120 mm
Software
The Terahertz Registration System TRS-16 comes with dedicated software capable to:
register THz signal, get FFT spectrum, absorbance and transmittance in real time (10 scans/s);
make a raster scan image using standard stepper motor XY stage (standard scan area 24x24 mm, but no any restrictions to use bigger XY stages). Standard stepper motor driving technique is used;
find the absorption, transmission and thickness of the sample;
THz signal continuous data-flow recording;
find complex index of refraction, complex conductivity and complex dielectric constant;
register optical pump THz probe signal.
Examples (print screens) of various measurements with THz software