T-FIBER Real-Time Fiber Coupled Terahertz Spectrometer
Features
Pump pulse fiber delivery
Real-time measurements
Unlimited lifetime of delay line
Flexible design
THz imaging capability
Complete PC control
User-friendly software
Excellent value for money
Applications
Time-resolved broadband THz spectroscopy
Production processes monitoring
Hazardous substances detection
Paint and coatings layers thickness measurements
Food and agricultural products quality inspection
Medical imaging
Description
Fiber-coupled Terahertz Spectrometer T-FIBER, offered by TERAVIL, features flexible and robust design. It has integrated femtosecond fiber laser with two fiber output ports. Comparing to common Ti:Sapphire oscillators, fiber lasers are smaller, cheaper, more reliable and feature parameters that are perfect for terahertz generation.
Femtosecond laser, delay line and signal registration electronics are integrated in a single compact housing with footprint only 40×40 cm. Minimal set of free space optics used in spectrometer allows stable long time operation. Special "no bearing" design of fast delay line makes its lifetime practically unlimited. Delay line allows real time data acquisition with 10 spectra/s speed and 116 ps time window.
Fiber-coupled THz emitter and detector make switching between experiment geometries easier than before. Due to its compact size and reliability during transportation, T-FIBER spectrometer is dedicated for laboratory use as well as for real field applications. We are also happy to customize it according to special OEM customer requirements.
Basic setup of T-FIBER spectrometer includes optical rail, with fiber-coupled THz emitter, detector, two PE lenses and sample holder. This setup provides transmission geometry and it is extremely simple in alignment.
As an option goniometer stage can be supplied. This inexpensive module allows operation in multiple most common geometries, including transmission and tunable angle reflection from approx. 18.5° up to 90°. It also can be used for unique THz scattering experiments, because sample and detector angles can be changed independently. This module gives also better focusability of THz beam.
Specifications
Model
T-FIBER basic version
T-FIBER with goniometer
General specifications
Spectral range
>3 THz
>3.5 THz
Dynamic range
>60 dB @ 0.4 THz
>65 dB @ 0.4 THz
Acquisition rate
10 scans/s
Spectral resolution
8.6 GHz
Scan range
116 ps
Configurations
Transmission
Transmission/tunable angle reflection/scatterin
Incidence angles range (in reflection mode)
-
18.5-90o
Detection angles (in scattering mode)
-
18.5-241.5o
Computer interface
USB
Dimensions
400 × 400 × 158 mm
Spectroscopy setup footprint
670 x 70 mm
450 x 300 mm
Pump Laser
Pump laser
LightWire FF50
Laser output type
Fiber
Wavelength
1064 nm
Pulse duration
<160 fs
Output power
>40 mW
Pulse repetition rate
40 MHz
Drawings & Images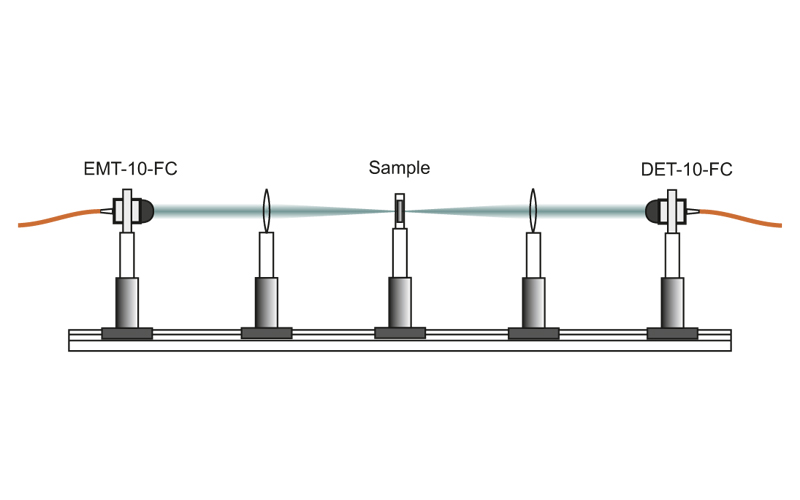 Sample area schematic layout (basic version)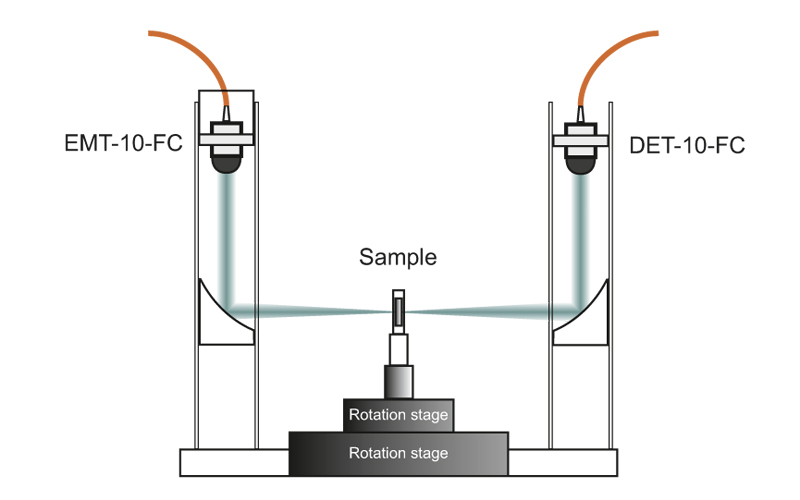 Goniometer schematic layout: side view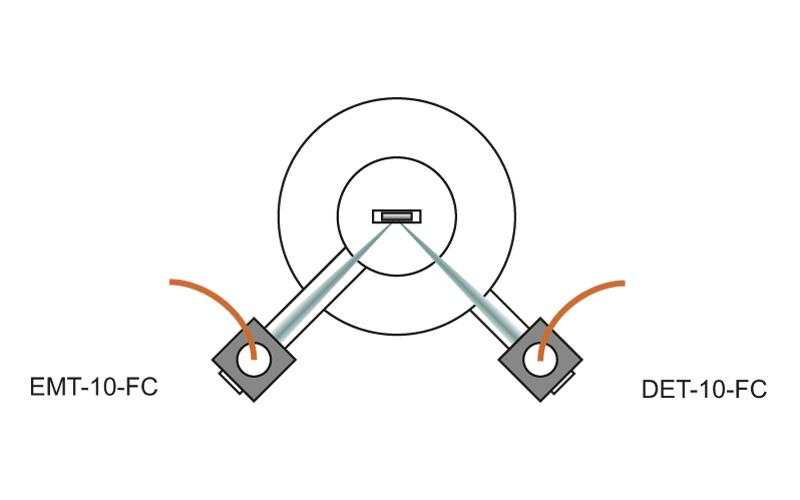 Goniometer schematic layout: top view in reflection geometry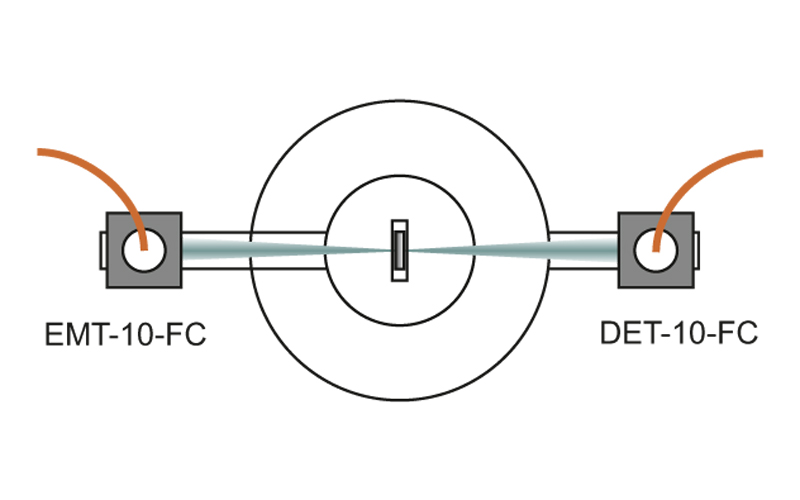 Goniometer schematic layout: top view in transmission geometry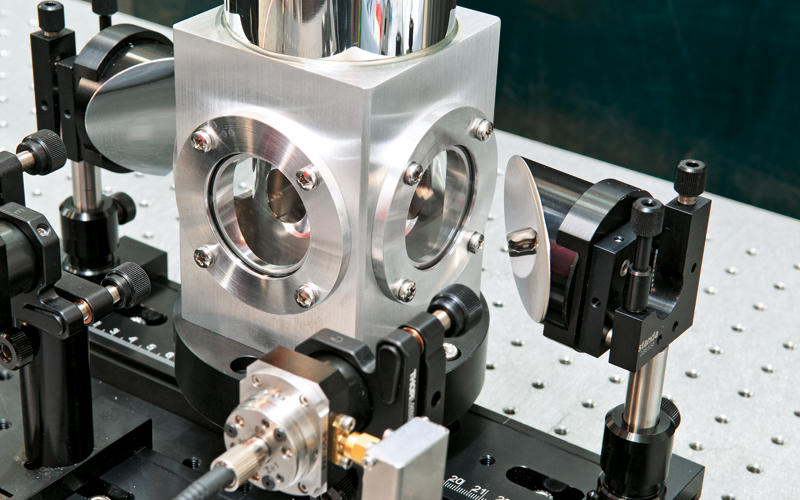 Example of T-FIBER spectrometer, tailored to custom application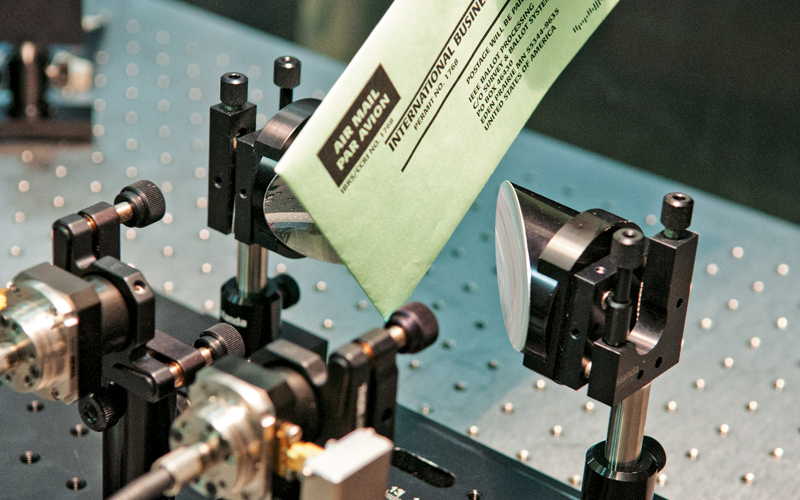 Example of T-FIBER spectrometer, tailored to custom application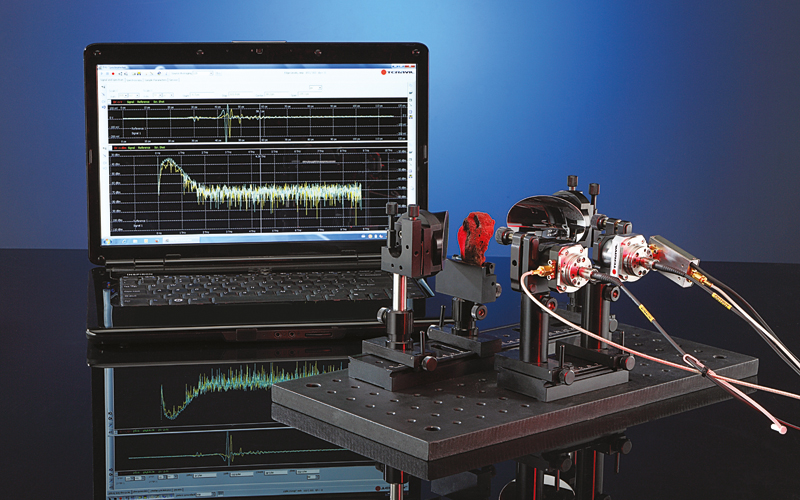 Example of T-FIBER spectrometer, tailored to custom application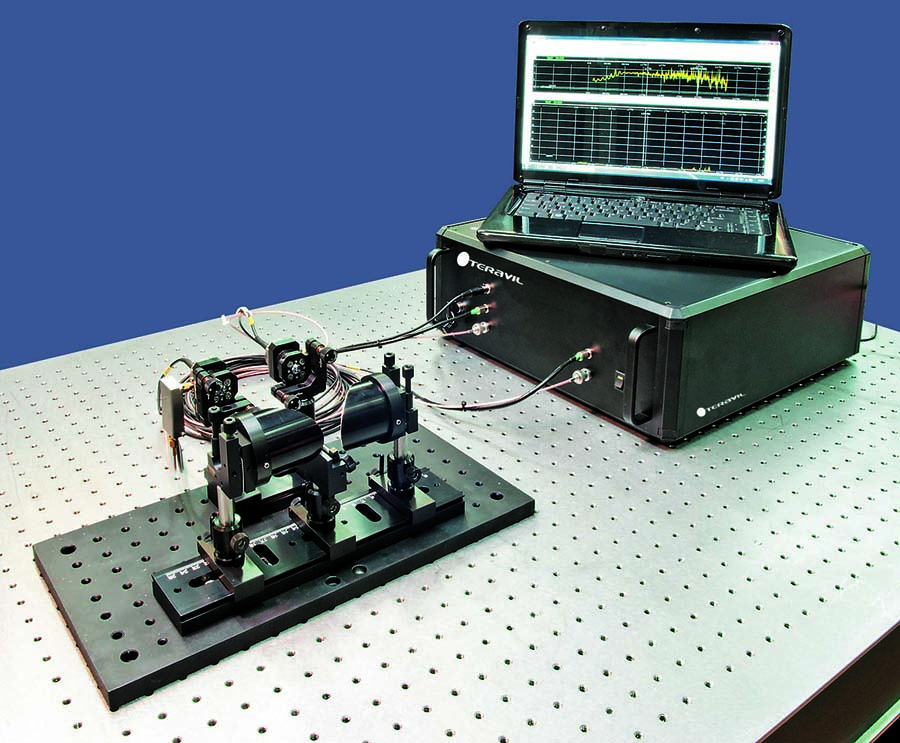 Example of T-FIBER spectrometer, tailored to custom application